Juki DNU-1541S Heavy Duty Walking Foot Machine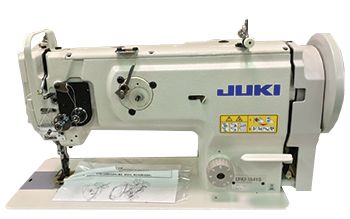 Juki DNU-1541S Heavy Duty Walking Foot Machine
The JUKI 1541S is one of the most popular upholstery sewing machines in the world. With this machine, you have unmatched quality, value and security. This is the ideal machine for sewing medium to heavy weight leather, canvas, vinyl and furniture upholstery fabrics. This machine is equaly capable in the hands of professionals and hobbyists. Always beautiful and consistant stitches, easy to adjust, and easy to operate.
With its larger needlebar stroke, higher presser foot lift, and newly adopted double-tension mechanism, the machine offers excellent sewing capabilities and responsiveness.

The machine's rectangular feeding motion promises the consistent feeding of materials of all thicknesses without stitch gathering.
Reviews